THE METHANE ZONE.
Updates for our Industry on Issues Associated with (Excessive) Methane Production during In Situ Remedial Actions.
---
Welcome to The Methane Zone
---
Article 1 – Look for Yourself!
Recently, PeroxyChem, LLC released a "Technical Bulletin" which concluded, in part, that:
"Routine field applications of EHC® have not resulted in excessive methane accumulation. Occasionally, higher methane concentrations have been observed at sites with more permeable lithologies where EHC was applied at higher loading rates (e.g., above 0.25% EHC by soil mass) at shallower depths (e.g., 10 to 15 ft bgs). Four field examples showing methane gas measurements of zero to 6.5 mg/m3 are summarized."
http://www.provectusenvironmental.com/marketing/tech_docs/ASeech_Peroxychem_Methane_Production_Article_FINAL.pdf
This conclusion was based, in part, on data presented from field applications of EHC® – a conventional ISCR reagent – at two sites in the NW USA. Interestingly, below are some data from an EHC project at another site (industrial site with chlorinated solvents) in the NW USA where the amendment was applied at depth (ca. 40 to 120 ft bgs) at a loading rate <0.25%. Subsequent performance monitoring data showed effective and successful contaminant removal, but this was coupled with significant production of methane in groundwater (Figure 1) where the concentrations were in excess of the solubility threshold and off-gassing in samples was occasionally observed. Methane production peaked at >800 mg/L about 6 months post EHC additions and it remained elevated for approximately 10 to 12 months.
Figure 1. EHC® was added between December, 2008 and May, 2009. Groundwater data were collected from approximately 28 deep alluvial wells (screened mostly between 60 and 160 ft bgs) and 5 or 6 shallow wells (screened 25-35 ft bgs).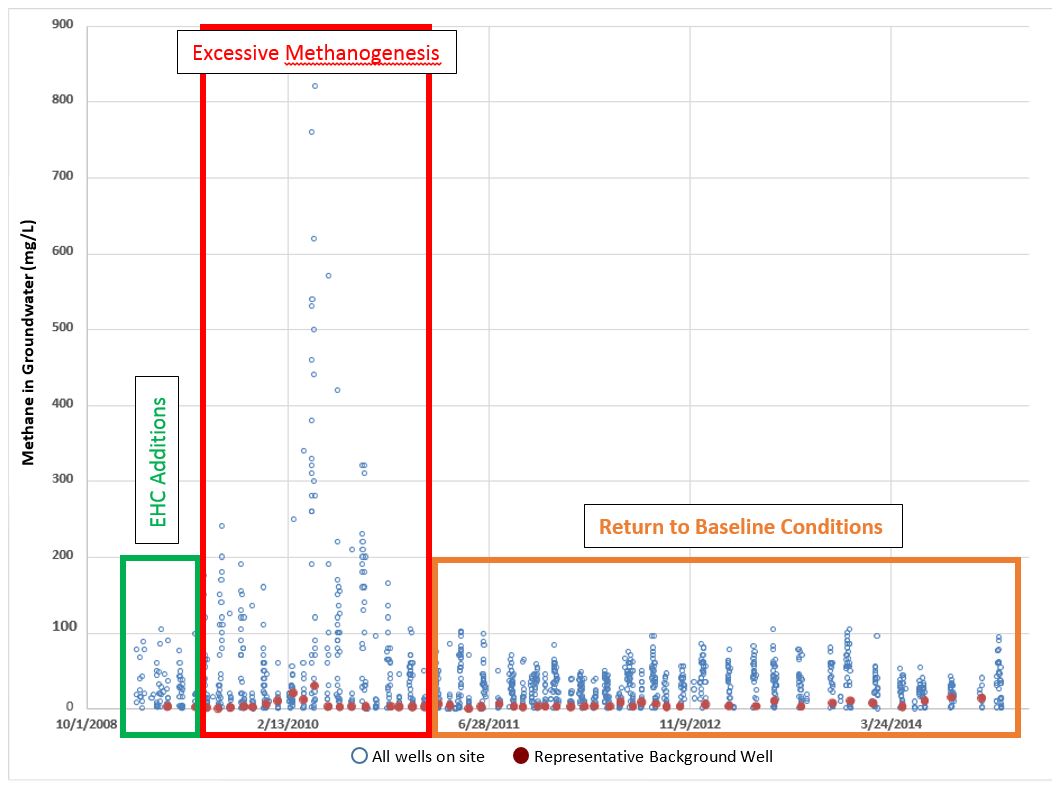 Relatedly,

the PeroxyChem "Technical Bulletin" also stated:

"The ZVI component of EHC has a known ability to store hydrogen gas in the lattice structure, thus mediating the buildup of high levels of hydrogen gas which may stimulate excessive methanogenesis."

"The high iron content of EHC (i.e. 40% ZVI w/w), results in the formation of a range of ferric minerals which serve as electron acceptors for iron reducing bacteria which compete with methanogens for available electron donors, thereby suppressing methane formation."
In response to these concepts, we find the recent article below to be quite interesting: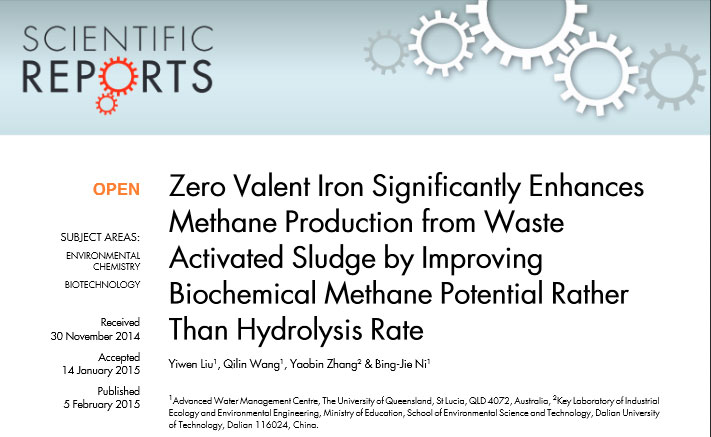 http://www.provectusenvironmental.com/marketing/tech_docs/LiuWangZhangNi15.pdf
There are clear benefits to the presence of ZVI in an ISCR reagent (Brown et al., 2009; Dolfing et al, 2008) and Provect-IR™ and Provect-IRM™ have always contained ZVI as a key ingredient. However, these particular, antimethanogenic ISCR reagents are truly different in that they uniquely incorporate active control of methanogenesis to provide safer, more effective remedial actions.
In summary – look for yourself! When the remedial amendments are effectively applied, ISCR often yields effective, sustained removal of contaminants under a wide range of conditions. However, excessive methanogenesis may occur, most likely concentrated in the areas that were treated directly (Figure 2). When controlled, the main benefit for most remedial applications is improved efficiency e.g., better "gas mileage" = requires less amendment and less cost associated with its field application (Mueller et al., 2014).
For our own reasons, some of us will embrace more readily than others valid technology advancements. In the end, effective scientists and practitioners will employ the technologies that they feel best serve their clients. More discussion on the topic in general can be found here:
http://www.provectusenvironmental.com/about-us/presidents-message/
Figure 2. Generalized Groundwater Conditions Following the Addition of Various ERD and ISCR Amendments (from B.M Henry following AFCEE et al., 2004).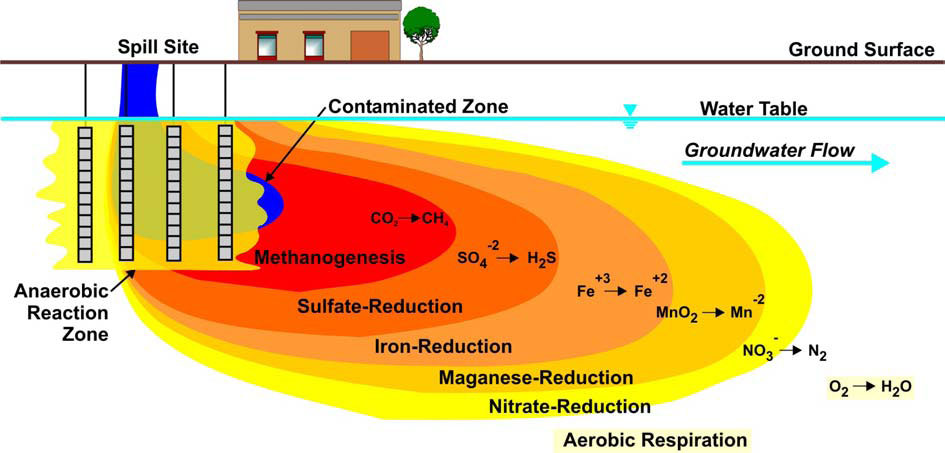 References Cited
AFCEE. 2004. Principles and Practices of Enhanced Anaerobic Bioremediation of Chlorinated Solvents. http://costperformance.org/remediation/pdf/principles_and_practices_bioremediation.pdf
Brown, R., J. Mueller, A. Seech, J. Henderson, J. Wilson. 2009. Interactions between Biological and Abiotic Pathways in the Reduction of Chlorinated Solvents. Remediation Journal Winter 2009, pages 9-20.
Dolfing, J. M. van Eekert, A. Seech, J. Vogan and J. Mueller. 2008. In Situ Chemical Reduction (ISCR) Technologies – Significance of Low Eh Reactions. International Journal of Soil & Sediment Contamination Volume 17, Issue 1, Pages 63-74.
Mueller, J., A. Karachalios and T. Fowler. 2014. Controlling Methane Production during ERD and ISCR Applications. Pollution Engineering News, October pp 24-29.
---
Article 2 – Methane Hot Spots Being Evaluated by NASA
We found this to be a very interesting article:
http://www.dailymail.co.uk/sciencetech/article-3031023/America-s-massive-methane-mystery-Nasa-set-investigate-unexplained-hotspot-four-corners-intersection-Southwest.html#ixzz3XVk0XnbB
A hotspot of total column methane anomalies centered over the Four Corners region from 2003 to 2009 was identified when a satellite-based methane-measuring instrument was operational. In April 2015, NASA scientists will conduct a study focused on verifying the methane hotspot and determining the cause of the exceptionally elevated methane concentrations.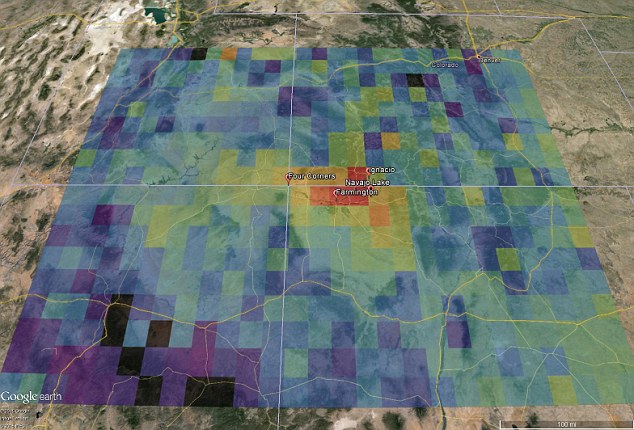 Hopefully no one reading this applied a conventional ERD or ISCR amendment near Farmington, New Mexico.
---
Article 3 – Guidance from the EPA
Environmental Litigation, Compliance and Transactional Costs to Increase as a Result of EPA's New Vapor Intrusion Guidance
Action Item: Vapor intrusion has been a primary concern of state and federal environmental agencies for the past decade, and, accordingly, remedial actions have included vapor migration and intrusion as an exposure pathway. Now, the direction and methods by which to evaluate vapor intrusion have been formalized and enhanced by the EPA's issuance of new vapor intrusion guidance documents. The EPA's issuance of these guidance documents will likely increase transactional due diligence costs and litigation costs as well, and states are sure to follow the EPA's lead in developing formal vapor intrusion investigation guidelines.
On June 11, 2015, the U.S. Environmental Protection Agency ("EPA") released two technical guidance documents that address assessment and mitigation activities at residential and non-residential sites where vapor intrusion is an actual or potential concern, including sites being investigated under CERCLA and RCRA.
Vapor intrusion refers to the migration of vapors from contaminated subsurface sources, such as groundwater, through soil and into overlying building and structures. Vapor intrusion may be a potential concern at any building located near soil or groundwater contaminated with vapor-forming hazardous materials.
The EPA's focus on vapor intrusion has grown significantly over the last decade, as has the focus of state regulatory agencies involved in reviewing and directing remedial actions to address releases of hazardous materials. The new guidance documents incorporate the EPA's current recommendations for identifying, evaluating, and managing vapor intrusion, while providing some flexible technical approaches to accommodate site-specific conditions and circumstances. These guidance documents were intended to promote national consistency in assessing and addressing the vapor intrusion human exposure pathway at contaminated sites. Indeed, many states have been awaiting the publication of these guidance documents before releasing their own state vapor intrusion guidance documents. The two new vapor intrusion guidance documents, which have not yet been published in the Federal Register, supersede and replace the EPA's 2002 Draft Vapor Intrusion Guidance.
The Technical Guide for Assessing and Mitigating the Vapor Intrusion Pathway from Subsurface Vapor Sources to Indoor Air applies to all sites being evaluated under federal remedial statutes. This guidance document addresses preliminary vapor intrusion assessments, sampling, risk assessments, exposure scenarios, mitigation, and subsurface remediation. The second guidance document, the Technical Guide for Addressing Petroleum Vapor Intrusion at Leaking Underground Storage Tank Sites, addresses sites where vapor intrusion related to petroleum contamination from underground storage tanks is a potential concern. Further, the EPA has a Vapor Intrusion Screening Level ("VISL") Calculator to assist in identifying applicable screening levels for a particular site.
At sites where vapor intrusion poses a potential or actual hazard to occupants' health or safety, exposures usually can be prevented or reduced through relatively simple actions, such as changing building pressure and ventilation. In most cases, costs associated with addressing vapor intrusion can be manageable, resulting in what the EPA believes to be long-term benefits, including improved public health and less costly response actions. The EPA believes that these benefits are especially likely when actions are undertaken early.
The new guidance documents, which the EPA will rely upon in connection with response and enforcement, will result in several impacts. First, the EPA's focus on vapor intrusion will likely increase remedial obligations under CERCLA and other statutes requiring remediation, such as RCRA. Second, due diligence costs associated with transactions that involve the sale, purchase, or leasing of real property are likely to increase as parties involved in those transactions determine that the risks associated with potential vapor intrusion issues warrant investigation and mitigation, which could even include sites where remedial actions have already been implemented and received a "no further action" status if those sites were not previously investigated with "vapor intrusion" as a pathway for exposure. Third, the additional inquiry into the potential for vapor intrusion as set forth in the new guidance documents may result in private party litigation serving to provide plaintiffs with another cause of action by which to claim exposure to vapors from hazardous materials and contaminants, and damages resulting from that exposure. In cases involving properties that have received remedial action approval without any focus on a vapor intrusion pathway, the ability to defend against such litigation may prove difficult.
The new guidance documents and supporting tools can be found by clicking on the following:
by Thomas Duncan, Margaret Anne Hill | Blank Rome LLP
---
Article 4 – Safety Moment
Managing Pressurized Monitoring Wells
Background: Well caps come in a variety of shapes and sizes and function. Most are designed to be water tight, many are gas tight, and some are equipped with gas sampling ports as shown below (http://www.fieldenvironmental.com/supplies-safety1/field-supplies/well-caps-and-id-plugs)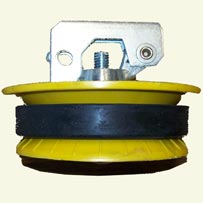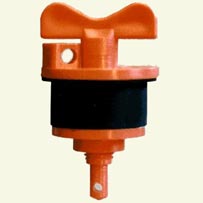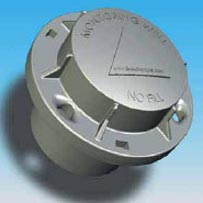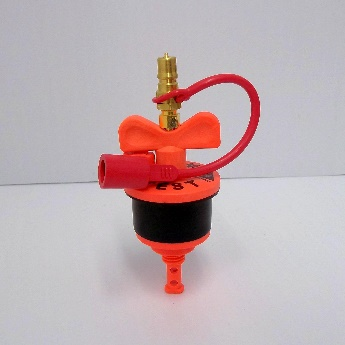 Have you ever removed a cap from an aquifer monitoring well, or at least seen it done? If so, then you probably saw someone doing something very similar to that shown below: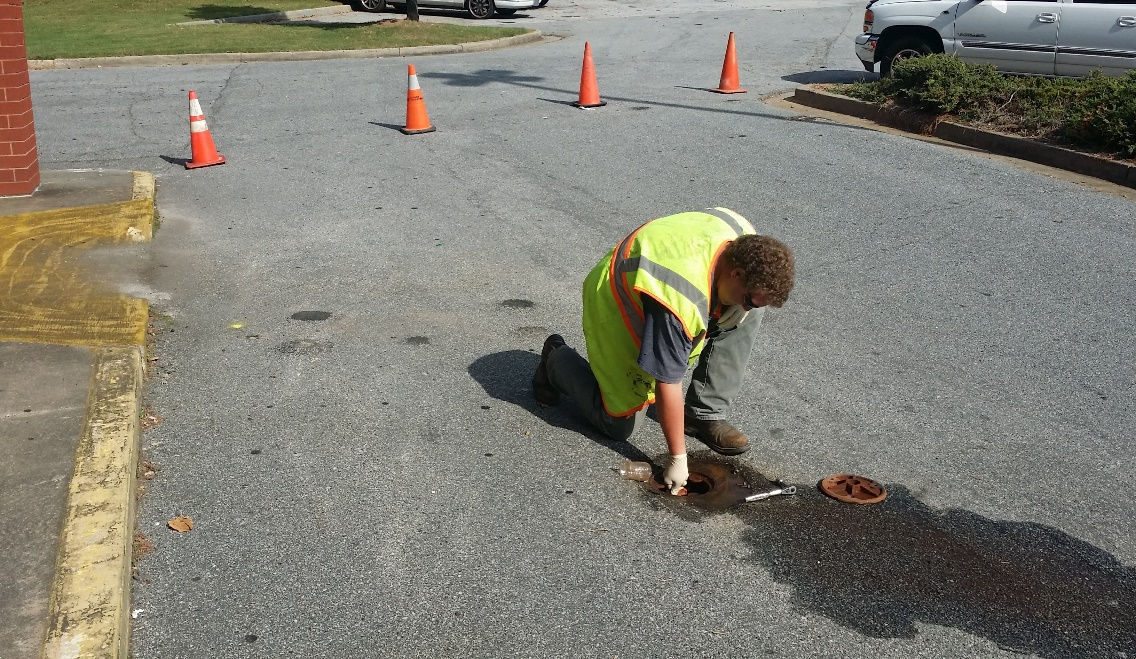 Looks and sounds like a very straightforward, safe procedure, right? Having done this many times ourselves, we thought so too (sure – some wells hissed, samples bubbled and the vapors smelled like Hellfire but we viewed those as good things,  from a third-person "microbes" perspective). However, as we consider more carefully issues associated with excessive methanogenesis during remedial actions, practitioners are more mindful of the overall process. Accordingly, we have received multiple reports of incidents and near-misses associated with removing caps or obtaining samples from monitoring wells that have been pressurized as a result of methane build-up.
Issue: During remedial actions using conventional carbon sources and ISCR reagents, methane production can be excessive and the gas can accumulate inside sealed monitoring wells. Looking at the photo again, we can see the proximity of the field technician's head and face in relation to the monitoring well as he removes the cap or attempts to open a sampling port (i.e., about 2 or 3 ft directly above the well – yellow arrow)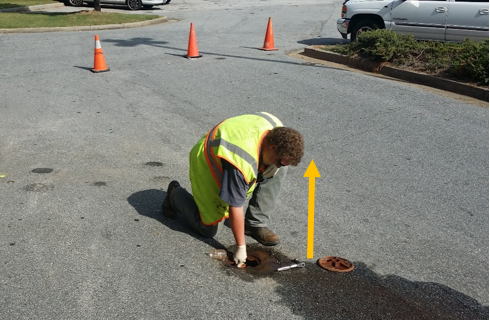 Although protected to the degree that conventional PPE affords (eye protection, gloves, reflective vest, etc) when opening a pressurized well the person is potentially exposed to:
Water (contaminated) jetting upward from the sampling port;
Caps themselves being projected upward; and
Vapors being emitted from the well (contain H2S and VOCs; methane concentrations exceeding 45% have been reported from sites where emulsified carbon sources have been utilized to support ERD)
Lessons Learned: Methane gas generation should be an expected by-product of in situ bioremediation processes, especially those that employ conventional carbon sources that do not actively control methanogens (e.g., substrates such as oils, lecithins, emulsified oils/lecithins, other organic hydrogen donors, conventional ISCR reagents, etc). As such, monitoring points may accumulate methane and other gasses that could lead to pressure build-up inside the wells.
Potential Control Measures:
When removing caps or collecting samples from any monitoring well, field technicians should anticipate high pressures: do not position yourself above the well and face away from the potential "flight path" or "line-of-fire" when opening the well/sampling port.
Wells can be fitted with a vented well caps to allow gas to dissipate slowly and prevent pressure build-up. (See http://www.gripnlock.com/excap.html). Air monitoring for flammable and toxic gases may be required.
Methane control technologies such as Provect-CH4™ or antimethanogenic remedial amendments such as those offered by Provectus Environmental Products, Inc. (Provect-IR™, Provect-IRM™, ABC-CH4™, EZVI-CH4™) can be used to help manage excessive methanogenesis during in situ remedial actions.
Field technicians may opt to wear impact-resistance, face shields. (See http://www.fieldenvironmental.com/supplies-safety1/health-and-safety/protective-wear/universal-face-shield-for-hard-hats.html)
Share your other recommendations by emailing us at info@provectusenv.com, or contacting our office at (815) 650-2230.
---
Article 5
NEW EPA VI GUIDANCE DOCUMENT
US EPA OSWER has issued its Final Guidance Document on vapor intrusion monitoring (LINK)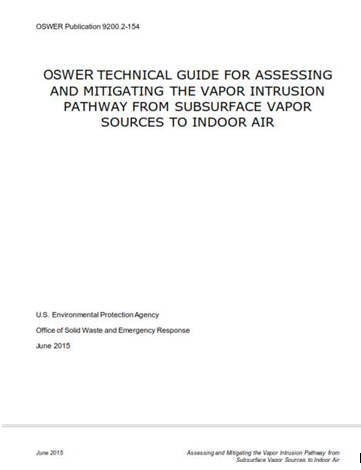 In addition to a focus on the importance of methane as it relates to vapor migration, there are a number of issues that can impact our business sector. These and other issues have been summarized well by T. Fracassi, A. Hayden and W. Walsh at Pepper Hamilton LLP. (Read Article Here)
---
Article 6
NEW REMEDIATION GUIDANCE DOCUMENT
February 22, 2016 the State of Michigan published guidance for practitioners involved with in situ remediation (see link). With specific regards to methane and its potential impacts, recommendations are provided for including methane during monitoring of:

Soil Gas: Monitoring should be done "…before, during, and after implementation of an in situ remedial discharge when the contaminants of concern or remedial reagents have the potential to lead to vapor or explosion hazards. This includes circumstances where a remedial discharge has the potential to generate, mobilize, or displace vapors or generate higher than normal concentrations of oxygen gas, and these vapors or gases have the potential to migrate into enclosed spaces. …. Soil gas monitoring is generally conducted for the purposes of sentinel monitoring to protect specific receptors; therefore, action levels should be specified for soil gas monitoring that will trigger specified response activity or corrective actions necessary to protect receptors…. The RRD Guidance Document for the Vapor Intrusion Pathway should be consulted for guidance on soil gas monitoring."

Indoor air and Enclosed Spaces: "Air monitoring of enclosed spaces such as storm sewers, utility man-ways, etc. should be included in the monitoring program for any facility where vapor or explosion hazards are a concern…"

Ambient Air: "Monitoring is warranted whenever a discharge has a reasonable potential to generate concentrations of vapors in ambient air that either present unacceptable inhalation exposures to workers or non-workers, or that could present a risk of fire or explosion. In most applications, in situ discharges are applied at some depth beneath a cover material (i.e., soil and/or pavement), which usually inhibits the rapid diffusion of vapors to the surface, thereby minimizing the ability of gases or vapors to accumulate at hazardous concentrations in ambient air. However, this alone does not necessarily preclude the need for ambient air monitoring."

In determining whether or not ambient air monitoring is necessary as part of an in situ remedial strategy, the following should be considered:
The concentrations of contaminants in soil or groundwater, especially where grossly contaminated media is present;
The concentrations at which contaminants of concern or remedial constituents become toxic in air, especially if toxic at very low concentrations;
The potential for explosive conditions to develop, in light of the chemical properties of the contaminants of concern and potential by-products from the discharge (e.g., generation of oxygen gas);
The proximity of the treated media to the surface;
The properties of the soil and/or cover above the treated media
Whether engineering controls are implemented as part of the remedial process, such as soil vapor extraction, that will otherwise stop the migration of gases or vapors to the surface; and
The presence of conduits to the surface for gases and vapors, such as monitoring ortreatment wells, that can result in the impact to the breathing zone air.
METHANE EXPOSURE AND AIR MONITORING
An informative video on the importance of monitoring methane was provided at the link below, along with thoughts and guidance on proper monitoring/reporting.
MONITORING METHANE IN GROUNDWATER
A recent paper by Molofsky et al 2016 (view paper) quantitatively evaluated three methods for collecting and analyzing dissolved methane and other gases in groundwater. In summary, they found that effervescence had a large impact on data obtained, and that the "IsoFlask" sampling yielded more accurate data under these conditions (see Table below). Effervescence is commonly observed where conditions are highly organic and reducing, such as LNAPL source area and sites where conventional (i.e., no active control of Archaea) ERD or ISCR reagents have been employed. In the absence of effervescence, the difference in methane concentrations between the three sampling methods was relatively small.