Selection of Provectus Environmental Sets a Higher Standard in Applied Soil and Groundwater Remediation. Provides Environmental Consulting and Engineering Professionals with Advanced Chemistries for Thousands of Contaminated Locations Worldwide
CHICAGO – July 8, 2014 – PRLog — Innovative Environmental Technologies, Inc. (IET), an established leader in the optimization and maximization of commercially available remedial products, announced today that it has issued an exclusive license to multiple patents and patents pending to Provectus Environmental Products, Inc. (Provectus), effective immediately.
Michael Scalzi, President of IET, says, "IET has patiently searched for a strategic partner that could most effectively market and support these advanced technologies. I am confident that in Provectus we have found that partner." Headed by James Mueller, Ph.D. – the former president of environmental biotechnology firms SBP Technologies, Inc. and Adventus Americas, Inc. – Provectus is uniquely positioned to further develop and aggressively commercialize environmental remediation technologies. "Provectus will offer the environmental industry global access to these patented technologies, coupled with unrivaled professionalism and technical support. We are confident that the technologies will be represented and applied in a safe, effective and conscientious manner with a dedication to remedial performance and project success," stated Scalzi.
Jim Mueller, President of Provectus, stated that "Having rigorously evaluated IET's impressive patent portfolio, the opportunity to integrate the estate under Provectus and position the new company in its leadership role in our industry was clearly compelling. The Provect™ family of technologies represent genuine scientific advancements, and they have been enthusiastically acceptable by respected remedial practitioners. When properly utilized, the technologies will yield many tangible benefits in terms of remedial efficacy and performance. I am fully committed to leading this effort with the same level of technical aptitude offered over the past 20+ years. My commitment is also to provide an often missing focus in our industry on exemplary customer service reinforced through candid, scientifically defensible client interactions," stated Mueller.
The patents are in force in numerous geographies and license areas. US reference numbers include:
7,129,388 and 7,531,709 – Method for Accelerated Dechlorination of Matter.
7,828,974 – Method for the Treatment of Groundwater and Soils Using Dried Algae and other Dried Mixtures.
8,147,694 – Method for the Treatment of Groundwater and Soils Using Mixtures of Seaweed and Kelp.
2014/0030797 A1 – Utilization of Ferric Ammonium Citrate for In Situ Remediation of Chlorinated Solvents.
13/785,840 (CIP 14/268,637 PCT/US14/36,632) – Inhibition of Methane Production During Anaerobic Reductive Dechlorination by Restricting the Effectiveness of Enzymes and Coenzymes that Catalyze Methanogenesis.
13/866,158 – Use of Encapsulated Substrate to Control the Release Rates of Organic Hydrogen Donors and Accelerate the Biotic Process of Anaerobic Reductive Dechlorination in Soil and Groundwater.
13/891,934 (CIP 14/268,629 PCT/US14/36,642) – Chemical Oxidation and Biological Attenuation Process for the Contaminated Media.
---
ABOUT IET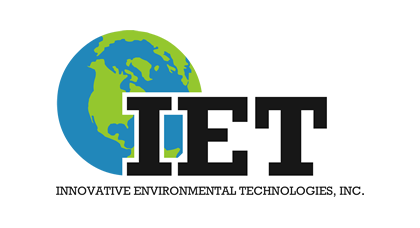 For nearly 18 years IET has been an innovator and leader in developing and implementing remedial technologies for sites impacted by chlorinated solvents, petroleum hydrocarbons, heavy metals and pesticides.  The eight (8) patents and pending patents have been developed and refined in the field by IET over the past 18 years as IET has designed and executed over 1,000 sites.